Indonesia is the best place for entrepreneurs to start a business, a BBC survey has suggested.
The US, Canada, India and Australia are seen as among the next best countries at supporting new businesses.
At the other extreme, Colombia, Egypt, Turkey, Italy and Russia are among the least entrepreneur-friendly.
The results come from a survey of more than 24,000 people across 24 countries.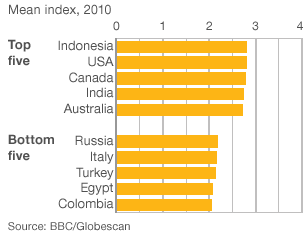 Index derived from the mean scores (on a scale from 1 to 4) of four questions:
valuation of creativity/innovation in own country
difficulty to start own business in country
valuation of people who start own business
ease of putting ideas into practice