U.S. venture capitalists put $8.1 billion into 812 deals in the second quarter of 2012, their single largest quarter in more than a decade, according to CB Insights.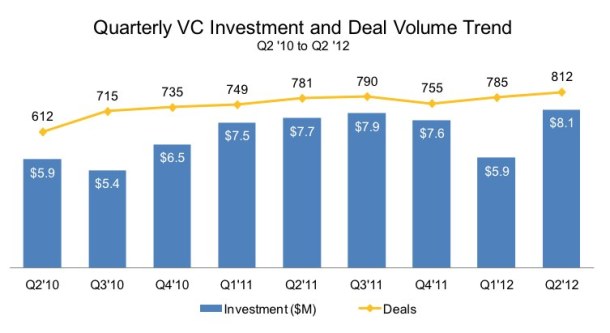 Funding was up 37% from the first quarter, and 5% from a year ago. Number of deals were up 3% from the past quarter, and 4% from the past year.
CB Insights believes Facebook's $1 billion acquisition of Instagram might have prompted such high spending. The company says that the mobile sector saw 102 deals — its highest figure ever. In addition, companies operating in the mobile sector with a photo or video focus nabbed nearly 30 percent of the funding.
On the Web, meanwhile, social services failed to attract the kind of investor attention that they once did, and gave up the lead to education technology, e-commerce, and enterprise technology, according to CB Insights. All told, venture capitalists handed out $3.1 billion in cash across 371 deals to Web companies, making it the biggest investment quarter for that sector since last year.
CB Insights also found that seed funding, which provides cash to early-stage companies, has been on the rise, and accounted for 31 percent of all Internet deals and 34 percent of mobile commitments. All told, over 20 percent of the deals were seed investments.
The full report will be available at https://www.cbinsights.com/blog/venture-capital/q2-2012-quarterly-report at 11.59pm EST on Monday, July 16th.