What is Impact Investing?
Impact investing is when an investor backs a business which has a social and/or environmental mission at its core.
This is not the same as philanthropy where investors expect no returns on their investment other than the reputation boost; and an impactful business is not the same as a non-profit.
Impact investments are made, with financial returns in mind, into businesses targetting profitability alongside their social mission.
An impact investor is, therefore, someone who chooses to support great businesses aiming to do good and make money, rather than just turn a profit.
The decision to be an impact investor is an empowered choice which has already enabled many world-changing businesses to do great things. The rise in awareness of the key social and environmental issues of our time has started a shift in the way many investors view the desired outcome of their investments. More and more want their financial outlay to have an impact as well as generate returns.
What are we doing to help this movement?
Angel Investment Network recently launched Seedtribe to attract more of its investors into the impact investment space.
Seedtribe is an angel-led, crowdfunding platform when everyday investors can invest from as little as £1000 into opportunities backed by angel investors and curated by the Seedtribe team. Investments can be made directly through the platform so the process is as seamless as possible.

We are confident that this new model will help impact businesses complete their funding rounds quickly so that they can focus on bringing their benefit to the world.
We are delighted to have Work For Good as one of the first impactful businesses on the Seedtribe platform.
Who are Work For Good?
UK annual charity income is around £20bn, but only 2% of this comes from businesses, as the process is complex, costly and lacks transparency with many legal and tax impediments. Work For Good's platform removes these barriers and has created a market for corporate giving.
Work for Good makes it easy for businesses to give in a way that's good for them and charities – by doing what they already do. By giving through the Work For Good platform, they can impress their clients, inspire their people, and be a force for good in the world.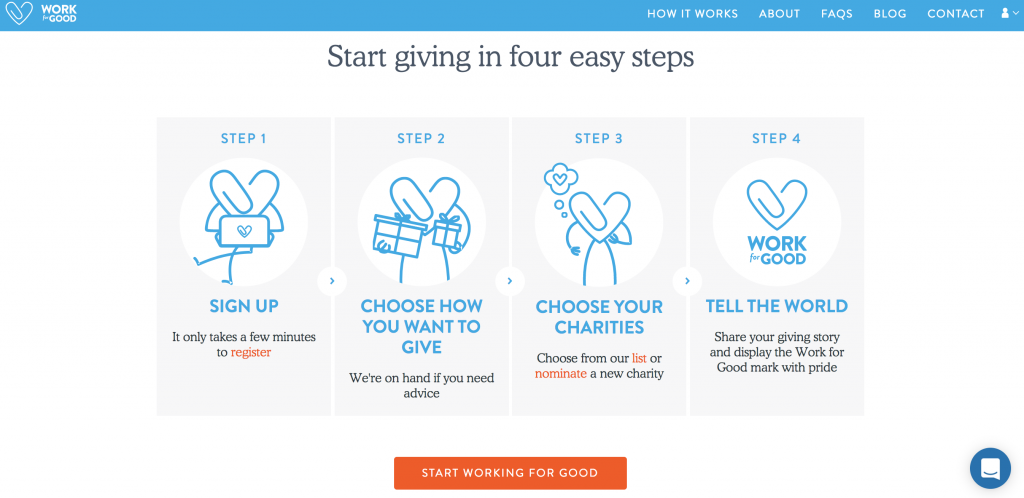 Liv Sibony recently took charge as the Head of Crowdfunding at Seedtribe and brought Work For Good onto the platform. (Liv previously founded and sold Grub Club, a platform aimed at helping chefs build a reputation and an income by hosting pop up dining experiences.)
She sat down with Danny Witter, CEO & Co-Founder of Work For Good, to get some insight into the problem of corporate giving and the Work For Good solution…
The Interview
What's your vision for the company?
To make business giving the norm and to unleash the giving power of the business world. Business giving makes up only 2% of all charity income in the UK which is a disgraceful figure. We can not rely on the giants of the business world to do it for us, The FTSE 100 charitable donations are down 25% from 2013 to just £1.2 billion in 2016, so why not create a culture where the other 5.7 million businesses support causes just by doing the work they already do? If 5% of SMEs gave one day's revenue, it would generate £208 million annually.
It also improves the bottom line for businesses (68% of SMEs believe their company's donations to charity had a positive effect on their company's profitability and 37% of SMEs claim that giving to charity helps to attract new clients) and improves employee morale while raising vital funds for charities.
For charities, especially the smaller, local ones who have less capacity to market themselves and seek donations, we will create greater visibility and support for them to grow their efforts and allow businesses to match with charities that are local or relevant to them.
We don't think this vision should be limited to the UK either, we strive to see people working for good across the globe, and are delighted that we've now received trademark protection across the US and EU.
Can you tell us more about the meta-trend of purpose in business, as you see it?
Investing in good causes grows your business too. In fact, many companies are using it as a major part of their business strategy – TOMS' 'One for One', Warby Parker's 'Buy a Pair, Give a Pair', and Bombas socks 'One pair purchased = One pair donated' are just a few using 'giving back' as part of their marketing strategy. Cause-related marketing is not just a fad, it's the response to consumers buying with their own values and in mind.
Consumers increasingly care about where their products come from and how businesses behave, and we see lots of marketing around sustainability and responsibility, and now, giving. The trend is deepening fast, and when in January Larry Fink, CEO of the world's largest asset manager BlackRock, published a letter saying that firms that lack a social purpose "will ultimately lose the license to operate from key stakeholders" it marked a watershed moment in the importance of authentic corporate responsibility. This applies from global behemoths to sole traders, and Work for Good is particularly focussed on SMEs that have less resource to do so.
For all the personal graft no business was ever built by the founders alone. Just as it takes a village to raise a child it takes a community of stakeholders to build a business. Without loyal customers, reliable suppliers, supportive investors, engaged communities and dedicated employees you have no business. Today, these constituencies want more from the companies they interact with. They are as interested in the story behind the business, the purpose the drives it and the positive values that underpin it. It is no coincidence that B Corp businesses, exemplars of the purpose-led commercialism, have been shown to grow 28 times faster than the UK economy. The giving mechanisms on our platform can also allow for a company's clients/customers to choose the charities to which they donate. It gets everyone involved and motivated.
Why is it currently so difficult for businesses to give to charities?
The mechanisms currently in place just do not create a marketplace for business and charities to find each other and make transactions. It's not just as simple as seeing a charity you would like to support, and then donating. Charities often do not even have a payment portal on their sites. The days of writing a cheque are long gone. Charities also find it hard to cut through the noise to create relationships with relevant businesses who may be interested in supporting them.
Work for Good is encouraging businesses to give in a smart way that is good for business, specifically by linking donations visibly to what they do, and talk about it with pride and authenticity in a way that will engage all their stakeholders, and inspire other businesses to follow suit.
However if you link donations to sales and talk about it you get caught by the charities acts, which prescribe that you have to bilaterally negotiate a commercial participation agreement with every charity you might give to, and the charities have risk of paying VAT on those donations.
As such it is painful to implement, and many charities have minimum annual donation requirement of up to £100,000 a year before they'll negotiate a CPA with a business, which excludes virtually all SMEs.
Work for Good has solved this, the combination of the terms a business signs with the platform and the terms signed by any charity jointly form the CPA, allowing businesses to give to as many charities as they like in a few clicks, in any size, and without having to engage the charities direct, with both parties being entirely compliant. There is also no VAT payable by the charity.
What does "Impact" mean to you as a profit-driven company?
It's a way to merge the profit-generation that people already strive for with the purpose of producing a specific benefit to society. We want to maximise that impact potential for businesses.
For us, the amount of money going to charities via our platform is the metric we concentrate on most. We believe that good business should have a positive impact on society. Our mission is to create a culture of business giving and therefore an increase in the amount of donations charities receive from SMEs. We also believe that giving has a positive impact on a business' bottom line – two-thirds of businesses we surveyed reported higher profits when they incorporated giving into their business strategy.
Interested in Impact Investment?
If you want to find out more about Work For Good and their current fundraising round, visit their pitch page on Seedtribe.
Do you anyone who might consider using Work For Good for their business?
Do you know anyone interested in impact investing?
Please consider sharing. You'll be doing good!