Angel Investment Network were delighted to be involved as both judges and mentors at the first ever Imperial Startup Weekend, which saw 65 budding Entrepreneurs assemble in the basement of Skempton Building, Imperial College. A total of 10 teams worked on new business ideas for 54 hours in a frenzy of customer validation, business model planning, coding and design.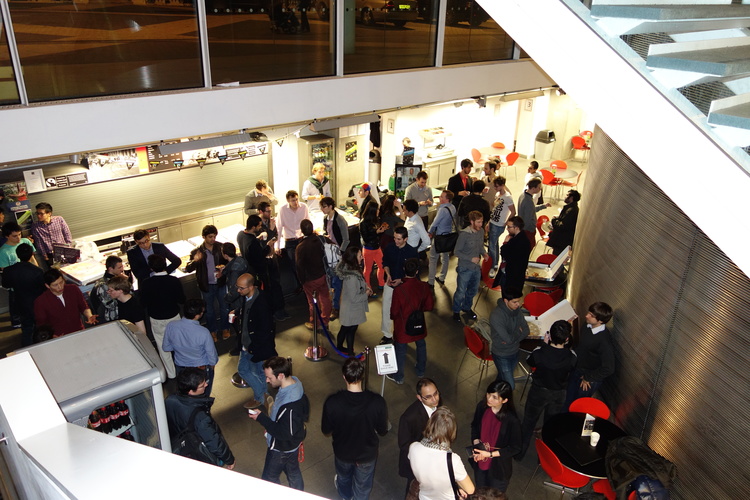 Here is some info from Stuart Brameld, Event Director about the companies and teams at the event:
1. Giglist (Winners)
Team Members: Tomasz Nguyen, Phil Thomas, Sahil Chugani
Giglist is the website all music festival lovers have been waiting for. It gives festivalgoers the ability to hear every artist in the line-up of any festival, all within the simplicity of one site. Users can then create and share giglists with friends.
Giglist takes festival playlists and artists, organises them neatly into stagelists and interfaces with Soundcloud enabling users to play individual tracks or whole stage lists.
The team had some great conversations with mentors from GoSquared and The Angel Investment Network before getting down to work. Tomasz used the same frameworks as Pinterest along with various APIs to provide the required functionality and, on a mission to have a working prototype by the time the team pitched to the judges, was still coding during the final presentations.
A number of the judges expressed a keen interest in the business and Giglist are already in discussion with music industry professionals about licensing and taking their product to market.
A number of the judges expressed a keen interest in the business and Giglist are already in discussion with music industry professionals about licensing and taking their product to market. You can follow their progress on the Giglist landing page giglist.it  and on twitter@mygiglist.
2. ShopMyBlog (Runners Up)
With a relatively large team comprising 7 people including ideator Emma Walker, ShopMyBlog set out to devise a revolutionary experience to easily and effectively monetise the blogging world.
The team created a unique solution not reliant on the traditional advertising methods widely used today and had a working prototype by the Sunday evening final. More information is available at shopmyblog.com and on Twitter @ShopMyBlog.
3. Fair Helper (3rd Place)
After a strong initial pitch by ideator Franco Leoni, the Fair Helper team formed to find a unique solution to remove the hassle and cost of visiting trade shows. The idea was based on a problem Franco himself had experienced earlier in the year.
Fair Helper enables interaction between business people who lack the time and money to attend trade fairs or expos outside of their country, and local students who want to earn extra money and learn more about business. Students are equipped with the latest technologies, enabling real-time video conferencing, which provides an experience similar to that of visiting in person.
The Fair Helper team performed an impressive amount of market validation over the weekend, visiting a number of trade shows and events to glean real-world customer feedback.
For more information contact info@fairhelper.com or visit their website www.fairhelper.co.uk.
4. Blacklist
Founded by ideator Val Lefebvre, Blacklist is a digital megaphone, enabling inidividuals to blacklist brands or products they have had a bad experience with. The teams vision is to bring more transparency between consumers and brands, enabling increasingly aligned interactions.
Anyone with a web-enabled device can go to blacklist.co and check-out, browse or search what's happening with consumer reactions on brands, products and services.
The team used tools and technologies including Photoshop, Fireworks, backbonejs, jquery mobile, HTML5 and CSS3.
To learn more visit this online demo available here. You can also follow the team on Twitter, Facebook and Tumblr.
5. Yini
Yini is a photo sharing app with a focus on online privacy allowing to feel confident about protecting the content they share. Yini app is a platform providing a variety of social features on a range of existing storage solutions such as Dropbox, Google Drive or the users own server.  It allows users to share media online with unparalleled confidence and security.
An iPhone minimum viable product (MVP) was developed using Dropbox, Python and Objective-C which provided sharing and commenting features. The prototype was built on Dropbox and utilised existing shared folders and data security.
For more information view the team's presentation slides and check out their website at  yini.co.
6. Data Sherpa
Founded by John Sandall, Data Sherpa is an online set of tools that help users to explore, visualise and analyse data, providing deep insight and statistical testing. Aimed at those who have data but have limited knowledge of statistics, Data Sherpa guides the user through the process of extracting meaning from data and drilling down to what's really going on.
With James Gill (GoSquared) as one of the mentors, the team benefited from his advice and support, with technical conversation focusing on the pros and cons of utilising frameworks and library's such as D3.js, Square, the Rickshaw framework and Pandas. The team built a prototype with Django and Python while using bootstrap for the front-end. For more information visit Data Sherpa
7. Tripbook
How much time does it take to plan a multi-destination trip? Planning such trips isn't easy and the team's research indicated the process can take up to 48 hours, with many chosing to just pay a travel agent to plan the trip for them.
Tripbook comprises a mix of developers, designers and MBA students, including ideator Karan Gajwani, all of whom love travelling. Over the weekend the team built a platform that, given a set of cities, will calculate the cheapest and most time efficient route, together with prices and transport options.
With an example of 5 cities the algorithm analyses 120 possible routes and compares prices and journey lengths. In gathering data the platform talks to various APIs and scrapes website data to add intelligence to the results. The team is now working to improve accuracy of the algorithm while making the site more user friendly through integrations with Facebook, Foursquare and Twitter.
You can follow the team's progress on blog.tripminded.com and contact them through info@tripminded.com.
8. Path
Founded by Chris Edson, Path set out to solve the problem of managing diabetes with the team having a wide-range of expertise and experience in the field.
There are currently over 3 million people in the UK living with diabetes which, if not managed correctly, can result in a variety of life-threatening complications.
Dealing with these complications costs the NHS around £8 billion every year. However, if the disease is managed correctly, these complications can be significantly reduced and, in some cases, completely avoided.
Path is working to design a web and mobile self-management platform for diabetics to take control of their disease, reducing the footprint that diabetes puts on their life and ensuring they're taking the necessary steps to stay healthy. The team is also planning to utilise various products currently on the market to assist in managing exercise, bloody sugar and other health indicators. The application is unique in utilising user data to predict future complications that may arise through poor management of the condition.
Keep up to date with Path at https://ourpath.co, take their diabetes survey and view their Prezi presentation from the final pitch. For more information contact chris@ourpath.co.
Save