Nicholas Phair shares why he thinks online voice messaging is the future in this month's #SixtySecondStartUp.
What does your company do?
Online voice messaging. We help businesses build trust with their audiences using the most powerful tool they have… their voices. Our online voice recorders can be added to websites, workflows, social media and more, and used in online and offline campaigns to hear from customers, followers and fans and engage in two way asynchronous voice conversations.

Why did you set up this company?

To go back to basics. Voice has always communicated far more than typed text alone – emotion, emphasis, connection – and we saw an opportunity to bring the same ease and utility of voice messaging found in consumer apps such as WhatsApp and FB Messenger to help businesses better engage with their own customers.
How did you get your first customer?
By asking them to pay! It seems like an obvious point but it's a lot harder than you think. Believing in your product means putting a price tag on it, and asking people to pay. Thankfully our first customer, a prominent podcaster in the US, saw the value immediately.
We knew we were onto something when?
… we received this early testimonial: "I'm just massively impressed with this entire thing. I'm kind of shocked that it doesn't really exist to this level, and we can see this being extraordinarily helpful for us."
Reading these words, after months of hard slogging in product and planning was golden. When our next 10 customers signed up organically and mirrored the above, we knew that if we kept going we'd succeed.
Our business model:

Freemium self-serve SaaS with consultative sales to the enterprise. In short: people sign up free on www.telbee.io to experience what voice messaging can do for them and their businesses. We limit the amount of voice messages that can be sent and received to 60 minutes per month and the service remains free (forever) until you decide you need more features, or want unlimited messaging minutes. And for larger businesses and enterprises we offer custom white labelled solutions and integrations specific to their needs.
Our most effective marketing channel has been:
Hands down it's been word of mouth – which shouldn't be a surprise since we're all about speaking and listening!
What we look for when recruiting:
We ask why they want to work with us, and listen keenly to the answer. When the whys are strong enough the hows take care of themselves – or so the famous saying goes. We look for people that want to build something truly unique and grow personally and professionally with the business.
The biggest mistake that I've made is:
Putting the cart before the horse, and investing in sales and marketing capabilities before breaching that elusive threshold of comfort in finding product/market fit – and while that threshold keeps shifting, mistakes keep coming, but ultimately they are there to make us grow!
We think that there's growth in this sector because: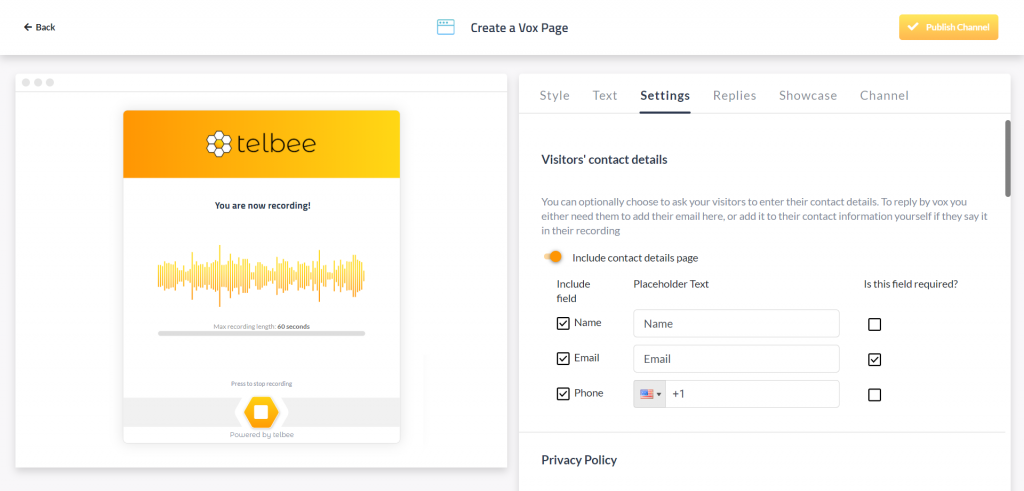 Our voice is what makes us human – and in recent times the rise of automation, artificial intelligence, and lockdown-inducing pathogens, have highlighted the importance of building and cultivating real human relationships. We've seen an explosion in voice applications across the board, from podcasts, to voice assistance to new types of short and long form voice-based social media. Whilst we are still in the exploratory stage of this nascent sector, what is certain is that businesses everywhere are beginning to see the trust-building benefits of asynchronous voice communication for sales, support and retention. This is only the beginning – and there is so much to be excited about.
We worked with AIN because:
We worked with AIN because they gave us access to investors globally. As a UK company but with a product relevant worldwide, we knew that part of what we wanted from investors was to extend our market reach beyond our existing network. AIN allowed us to speak with investors from the US and Asia as well as the UK.
Keen to hear more?

If you would like to see what other companies are up to on Angel Investment Network, or are interested in raising funding yourself, you can find your local network here.