For our latest Behind The Raise interview we speak to Jim Mulford, founder of rewards redemption platform for gamers, acQyr eXchange. The serial entrepreneur talk to AIN about his mission to effectively monetise the hugely growing gaming market with relevant rewards and offers, learn about how to get ahead of your competitors. As someone who has led several exits he also offers his top tips for raising investment and reveals the pitfalls to avoid.
Tell us about The acQyr eXchange and how you came up with the idea?
Our mission and QX Offering have a strong foundation of research, development, pilots, partnerships, and IP for the real-time issuance and redemption of digital reward value in markets that effectively apply loyalty rewards to attract, engage, and retain the customers of businesses within each market.
It all began when Targeted Shopping Solutions, Inc. (TSS), the Corporate entity for QX, was founded to solve the reward redemption challenges facing small- to mid-sized retailers (SMB): How do SMBs issue, manage, track, and redeem sales promotion offers and coupons? SMB owners did it manually, if at all.
TSS developed the ShopMyNeighborhood (SMN) program to automate the process for these smaller retailers and to provide an easy-to-use, real-time solution for their customers. SMN electronically enabled owners to define offers and instantly redeem them on their existing point-of-sale terminals. Partnering with MasterCard®, SMN issued shoppers a branded prepaid card where loyalty rewards were redeemed, accumulated, and spent.
The key to SMN was that it was a coalition loyalty rewards program. Shop owners on Main Street could all sign up and share customers and offer the same rewards and redemption platform, making their loyalty programs more valuable to shoppers.
However, the high cost of customer acquisition and the market entry of household-name competitors led TSS to pivot in late 2018. The TSS team researched and identified that using the Company's existing IP and technology for issuing, tracking, exchanging, and redeeming digital reward value represented a significant opportunity, and the pivot was made to the acQyr eXchange. Having invested over $7.0 million into the research, development, piloting, and integration of the core technology platform, TSS was well positioned to bring our competitive IP to markets that use personalised offers and digital rewards to increase the lifetime value (LTV) of their customers.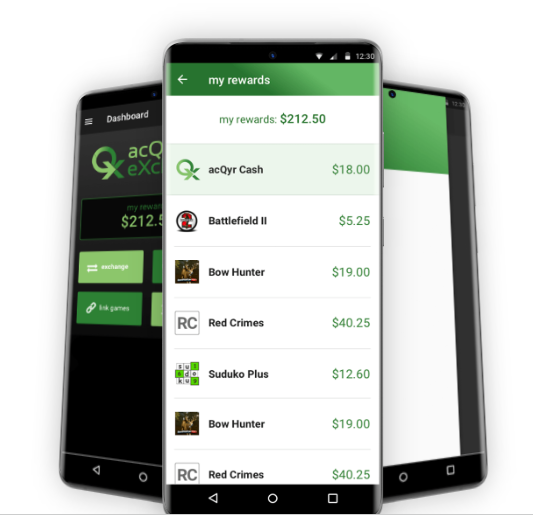 What is the problem you are looking to solve?
The Gaming Market is currently experiencing double digit annual growth. Over 2.7 billion gamers worldwide and three out of four people in the United States are fueling this growth. It is estimated that 250 new games are introduced every week! While great for the industry, it now costs more to acquire new customers (CAC) and to retain gamers longer to increase LTV. Social media, app stores, gaming platforms, and other marketing methods are proving to be less effective and more costly across the industry. The industry needs new and more effective marketing channels to acquire, retain, and monetize their gamers.
QX delivers a well-proven method of issuing targeted offers and rewards to attract new customers and retain existing ones, thereby lowering CAC and increasing LTV. In the retail industry, loyalty programs have been proven to increase sales and profits, reduce churn, and lower the cost of acquiring new customers for nearly 70 years. That is why more than 90% of retail companies have some sort of loyalty program according to Accenture. 75% of consumers say they are likely to make another purchase after receiving an incentive according to a study at Wirecard.
How did you get the business off the ground?
We have developed, researched, tested, piloted, and launched our offering through a strong friends & family investment network, including the company founders. Over $7 million was invested by this group to make sure we delivered a superior and well tested offering to the market.
QX has been developed as a fintech platform for issuing, tracking, exchanging, and redeeming loyalty rewards across multiple rewards programs in any market. We are bringing our platform to the Gaming Market in three phases. Phase 1 has been launched, allowing for the exchange of in-game issued rewards and subsequent redemption for cash. During Year 1 (starting this quarter), we will release our Phase 2 personalized rewards offer engine and premium member value added services. Later in Year 1, we will also introduce multiple redemption options to bring further value to our Offering (Phase 3).
What traction have you seen?
During our Phase 1 MVP, we have signed 10 Letters of Intent for our Phase 2 rollout and have contracted with 3 game publishers to test our end-to-end functionality and solution set. We have successfully onboarded both game publishers and gamers to the platform. The largest cash back reward redeemed on QX during the MVP was over $600!
In addition, we have worked with industry insiders to prepare for our Phase 2 launch and market expansion in 3Q22 (year 1). Larger publishers, including Electronic Arts and Rovio have discussed QX with us and expressed interest in our offering as we begin to penetrate the market.
What are the key trends to look out for as the mobile/video gaming industry rapidly expands?
In 2020, the mobile and video Gaming Market generated $160B in worldwide revenues and has an expected CAGR of 10.5% over the next 5 years. There are over 2.7 billion gamers worldwide, with three out of four people in the US playing games (245 million). The market is expected to continue to outpace other entertainment industries.
Today, we are seeing 250 new games being introduced every week. While the game publishers and developers are seeing great growth, they are also challenged in how best to attract and retain gamers to their games. For example, only about 5% of mobile gamers spend money. Most mobile games are free-to-play, with ad engagement and in-game purchase options used for the monetization of these games. Game owners use various in-game rewards and tactics to get free-to-play gamers to spend money, but their success is low.
In contrast, the retail industry has evolved to using sophisticated, targeted offers and rewards to attract new shoppers and keep them coming back to make additional purchases. Over the past several years, we have built a flexible and compelling platform for issuing personalized (targeted) offers, with common rewards, that offer shoppers an asset (cash) that attracts them to participating retailers and retains them over the long term.
What initially attracted investors to your company?
Our team of key executives has successfully launched, operated, grew, and exited entrepreneurial ventures in the tech industry. Investors who received very attractive returns from those prior ventures were eager to invest with this team again.
The size of our market and the potential for scalable growth with very attractive returns has appealed to our investors.
The use of scalable and real-time technology by our team gave early investors comfort that we could expand and grow in a very large and growing market, the mobile and video gaming industry.
What is your top tip for anyone raising investment for the first time?
If possible, start with investors who know your team, your industry, and/or your market opportunity. Not only can these investors provide early funding, but they also bring other value-added expertise to your company. Always stay focused and don't overstate your business plans. I would also advise that you connect with an investment network, like AIN, that can bring a broad range of investors that you can research and align to your specific investment stage, opportunity, and offering.
My biggest fundraising mistake has been…
Investing too much into developing a very robust and well tested platform before reaching out for major market expansion funding. For some investors, the large amount invested into preparing for our market launch and growth has created a barrier for them to invest.
If you had a magic wand and could wave it, what would you wish for to improve the fundraising process for startups?
For any startup, the best magic wand is one that aligns their stage, market opportunity, and solution set with the right set of investors. Too often, startups waste too much time trying to approach and communicate with investors that are not a good match for their business.
You have started, led and exited several successful ventures. What is the one piece of advice you would now give to your younger self starting out on your entrepreneurial journey?
More than anything, I have learned that success takes lots of hard work from a dedicated and properly constructed team. No entrepreneur will be able to achieve scale with their business without a team of skilled staff that complement one another.

If you're looking for an angel investor to help fund your business, then the Angel Investment Network can help. Sign up to pitch your business to investors all over the world