Gary Piazzon founded Porter after becoming frustrated finding a suitable hotel. He shares some of his key learnings from fundraising and his biggest mistake in this edition of #BehindTheRaise.
Tell us about Porter and how you came up with the idea
It was a nightmare, timely and stressful booking experience that led me to the idea of Porter; I visited one of the large online travel agents, entered my search criteria and was hit with a pretty intimidating 2,000+ results.
I wrongly assumed the hotels near the top of the list would be a great match for me. They were nowhere near where I wanted to stay and only appeared higher up as they were clearly paying a higher rate of commission.
That got me thinking, why see the results you're not interested in?
Porter is designed to make booking a hotel simple and fun by learning about the elements that matter to users so it can assess the thousands of potential property options to help recommend the right places to stay.
In a nutshell, Porter simplifies hotel booking, by only recommending your best matches.
Why did you decide to raise investment?
Raising investment was pretty much a necessity to really get things off the ground.
As we're building a very technical platform leveraging various levels of machine learning and artificial intelligence, we needed to ensure we could attract the right talent, as well as pay the bills for hosting etc. so raising investment was really important from that perspective.
Beyond the technical aspects, it's also been crucial in helping us raise some initial awareness of the site, and further we purposely targeted 'smart money' and ended up with a collection of very experienced, knowledgeable investors, all of whom have contributed advice, support and knowledge to the business.

What is your top tip for anyone raising investment for the first time?
My top tip would be to ensure you have a clear story, and think about the traction you can show to demonstrate interest.
From a story point of view, I think it's really important that when investors look at your pitch, or speak to you, they come away with a really clear understanding of what you're trying to do, why you're doing it, and how you'll do it better than anyone else.
You should then be able to support this with some sort of traction that demonstrates people being interested. This could be in the form of users signing up to your pre-launch page, user engagement on your MVP, revenue numbers etc.
What attracted investors to your company?
I'd say there were a few key things:
· All of our investors resonated with the problem we're trying to solve. They'd all experienced the frustration and wasted time of endlessly searching for the right place to stay when going on holiday. This immediately put us in a good position when discussing the business.
· Secondly they recognised that there's an enormous opportunity to go after, and the market has proven itself capable of supporting numerous large players. Globally, the online travel agent market is worth c£440bn, but in the UK alone, the market is worth around £35bn. That means, even if we were to capture 1% of the market, we'd be achieving £350m of revenue.
· The final thing that attracted investors to our company was our strong founding team, and the interest we'd demonstrated through our pre-launch page. We built an initial team with experience spanning Development, UX, Product and Marketing and built a pre-launch waitlist of over 3,000 users. The combination of these two points gave our investors the confidence that we were the right team to try and tackle the problem.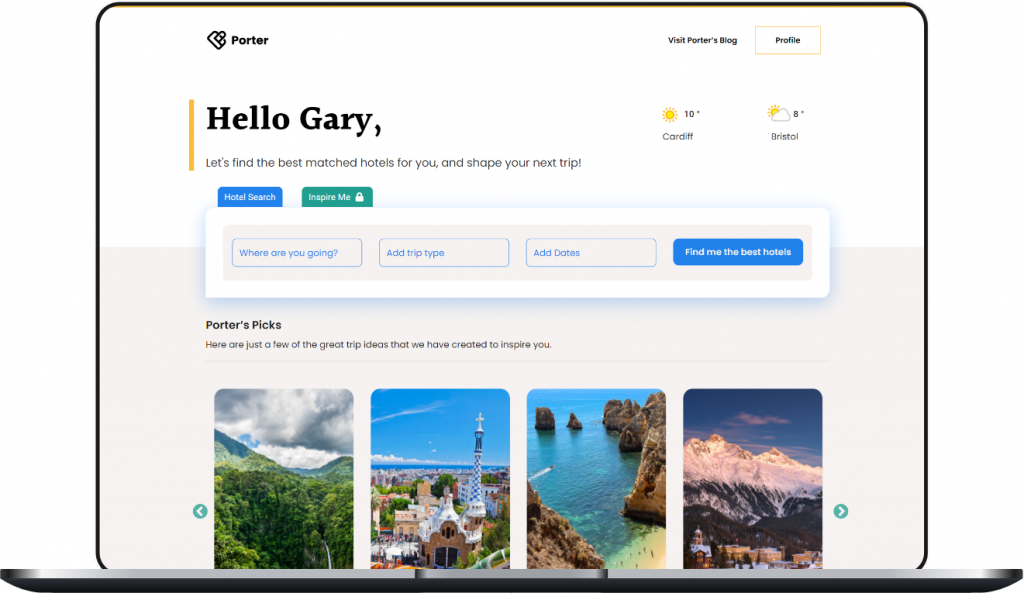 My biggest fundraising mistake was…
Initially failing to adapt pitches and conversations for my audience. I quickly learnt that different types of investors were looking for different information from our discussions, with a big difference between angels who were much more interested in the vision and team, versus VCs who were much more focused on the quantitative side of things.
Why did you choose to use Angel Investment Network?
I was actually recommended to AIN from a fellow founder who has previously raised a number of rounds through the platform.
AIN was a no-brainer thanks to its ability to connect us with such a large number of investors. Not only did using AIN help us successfully close our pre-seed round, but it also helped us meet some really interesting industry experts.
What is the main focus for Porter for the year ahead?
We've actually recently started raising our next round of funding to allow us to accelerate product development, grow our team and reach more people.
This is a really exciting time for Porter. As travel restrictions start to ease, we're already starting to see an uplift in people wanting to travel. Our focus now is ensuring we're best placed to help as many users as possible discover and book their best matched trips.
Keen to hear more?

If you would like to see what other companies are up to on Angel Investment Network, or are interested in raising funding yourself, you can find your local network here.