We spoke to aisle 3 co-founder and CEO Thomas J. Vosper about his business revolutionising the online shopping experience. He talks to us about bouncing back from redundancy, what he learnt from pitching to investors and his passion for ensuring we have #nomoretabs.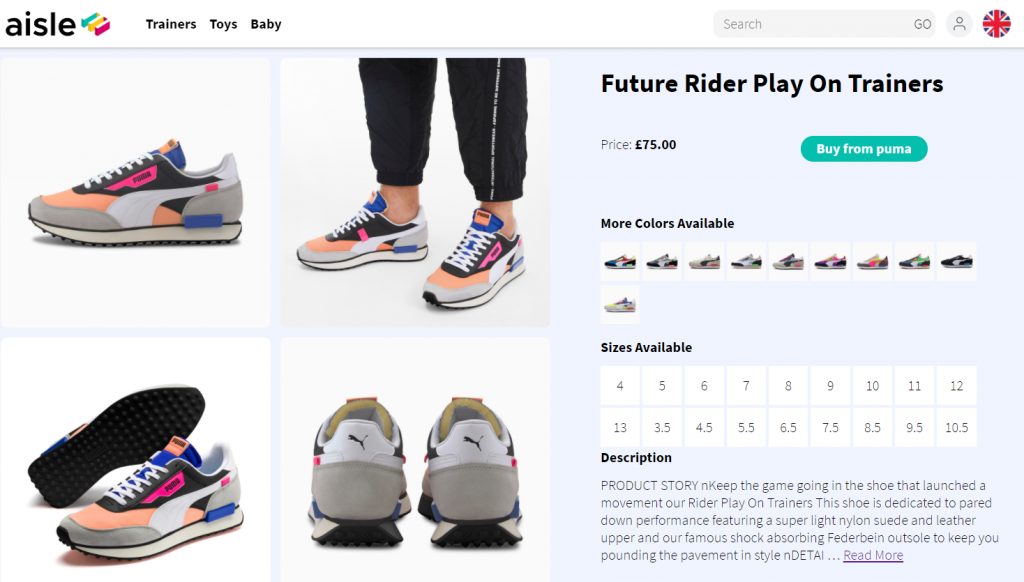 Tell us about aisle 3?
Like most people I find it super easy to find a car insurance provider, book a hotel in seconds or find availability on a flight based on what matters to me. So why is it so hard to find out all of my buying options for a set of wireless headphones? I am not alone in having to open endless tabs across multiple retailers and marketplaces when I shop online.
At aisle 3 we are building a brand and destination site so that shoppers can see all of the relevant product information, price and availability all on one screen. We are obsessed with a #nomoretabs experience that works for both shoppers and retailers.
Right now on aisle-3.co, shoppers can discover colour and size variations on one page for our launch products – trainers. We are actively looking for new commercial and investment partners to increase our offer.
What is your background?
I've been fascinated by ecommerce and both the shopper experience and the retailer relationship since I started as part of a small team in Amazon's nascent UK marketplace in 2007. It's crazy to remember that there was about a dozen of us occupying half of the 5th floor of a Slough office block! I was lucky to launch thousands of merchants across the full range of categories and products over 6 years.
After learning a very different corporate experience at Tesco for a couple of years I joined a price comparison start up and grew its retailers from 6 to 45,000 in three years before it unfortunately went into administration.
I've spent the last 14 years trying to understand and support both sides of the purchase journey. I'm obsessed with learning more about how I can support shoppers whilst delivering value and growth to help retailers in the face of ever increasing commercial challenges.
How did the idea for the business come about?
My ecommerce baptism at Amazon fanned the flames of my shopper obsession but having worked with thousands of retailers and brands I've become increasingly aware that there is a struggle on the other side of the purchase journey.
Showing shoppers all of their buying options needs to work in parallel with supporting retailers and brands.
Finding myself unexpectedly redundant a couple of weeks before lockdown was the forceful kick that (thankfully with some amazing co-founders support) was needed to look at how we could tackle a fragmented online shopping experience.
We looked at the current price comparison incumbents as well as Amazon and Google and were staggered that no-one was able to aggregate information that means we would see all of our buying options on one tab. Given the resource and scale of some of these businesses we wanted to stretch ourselves to see if we could take on the technical challenge of #nomoretabs that no-one else has solved.*
*12 days after our pre-seed round we deployed our own three algorithms that means you can now see all the sizes and colours of a particular trainer.
How have you overcome challenges during COVID?
Our entire business has been built throughout lockdown which has meant we have had to work hard to hire and adopt a new company culture without ever meeting each other.
The shift to remote working has made it much easier for us to find talent to join the team from across the world, however this has impacted us in other ways that we didn't consider in the midst of our own personal bubble of a global pandemic.
Outside of the disruption of Covid our team has been affected by Floods (India), Government disruption (Belarus), political tension (Armenia), Black Lives Matter riots (USA) which highlights the challenges of a diverse international team.
We've tackled a lot of this by working very transparently, putting trust in each other to hit clearly defined goals whilst making sure that we have a growth mindset that encourages constant feedback loops and support. We shot through the free tier of Slack in just a few weeks!
What would you say to others who have faced redundancy during this difficult time?
We're all in this together. It is very easy to reach out to friends, family, professional networks across calls, WhatsApp, LinkedIn, etc. and my experience is that people are actively looking to support anyone in a difficult position financially or emotionally.
I'm also personally very wary of perceived success on social media. I've been very proud of the grit the team and I have shown and our achievements this year but I'm not satisfied that I've made anything yet. Personally and with aisle 3, we are still at the very start of a journey that started in challenging times amongst an incredibly specific set of circumstances.
For every story of someone building a business on a credit card there are 99 that fail. What really motivated me was the outreach of support when I was openly discussing my personal challenge (no job) and the ambition I had to create a company that could impact every Shopper on the planet (aisle 3).
I'd encourage anyone who has been made redundant to reach out to their network and ask for support. It might just be that someone suggests something that you hadn't considered and from difficult circumstances comes your next big personal development.
Why did you decide to raise investment?
In March I was made redundant and wondered how I was going to settle the credit card bill for my hotel in a month that I wasn't going to be paid!
My personal financial circumstances were not prepared for a new business, even if I knew that my career and personal development had been leading up to this moment.
I took out a £25k Virgin Start Up loan to get aisle 3 started but we knew that bringing in smart investors from a diverse background would elevate the business and we could relentlessly focus on growing a world-class consumer offering in a massive market.
I'm a big believer that we are better working together and knew, however capable the team was, that we couldn't take on such a technical growth challenge alone. Our investors help us make the right commercial decisions whilst providing the financial support to build a shopper obsessed product that no-one else has mastered.
What are your top tips for anyone raising investment for the first time?
Even if you feel very clear on your mission and execution I'd recommend drawing up a list of ideal investors and then flip the order so you are saving the most relevant till later. You have to practice your pitch so that it evolves naturally. I remember the pride we felt with the version of our deck but cringe now at some of those early conversations as we found our feet.
Make sure that you can explain enough of your business to friends and family so they can get a general snapshot of your business and what you need the cash for. If you can't do that you might find you struggle with the elevator pitch to potential investors.
The questions that caught me out, certainly at the start of my journey, were the simple ones that I expected an investor to know and made me doubt my own answer. I sometimes found that the savvy investors would often ask quite a direct and/or simple question to see how you react and answer rather than to hear the details.
If you don't know the answer don't try and talk around it. One of my proudest achievements in our business is that we have been able to surround ourselves with colleagues, advisors and investors that complete our knowledge gaps. Investing is a two-way partnership and perhaps the answer to a question from an investor is 'what would you do and how can you support?'.
What attracted investors to your company?
Investors understood the problems aisle 3 is trying to solve and they related to their own shopper journey – especially when I was able to walk them through the competitive landscape and how we had already exceeded the current incumbents. I think, as shoppers, we are too accepting of the status quo and the need to open multiple tabs on your browser even though hotels, car insurance or flights are easy to compare.
Whatever the type of product and size of purchases the investors I spoke with all shared their personal stories of difficult online shopping experiences – from struggling to find the best deals on Google, to an uninspiring functional Amazon experience or broken comparison-shopping sites that they'd stumbled across.
It increased our conviction knowing just how much our mission can change the landscape of online shopping both for shoppers and for the retailers that struggle to convert to sales on the other side of this broken experience.
I already knew we were fixing a big problem but when investors tell me that we could be creating a unicorn business here in the UK, during a global pandemic, I feel incredibly inspired to push the business even harder and solve problems.
My biggest fundraising mistake was…
I've made lots of mistakes! The hardest questions are often the simplest and I cringe a little thinking about an early conversation with a VC that asked quite directly what my role in the business was. That was probably one of the easiest questions to answer and I could have picked any five of the spinning plates that I manage and have delivered results in but I turned into a waffling mess! I'd spent so long prepping the intricate details of the technical challenge that I was ready to answer any question other than then ones I had assumed the investor would know.
The lesson for me, was that you can prepare all of the details, but don't forget your value, what motivates you and how you drive the business forward. It's not about trying to learn everything to fill the gaps in your expertise or responsibility – that's what I have an expert team for and the sum is greater than the individual parts.
I have also learnt to better read the signs after spending far too long entertaining conversations that I see now were never going to bring investment. I found it very difficult to push hard for a 'no' and walk away at the right time when all the signs were there that we weren't a good fit for each other. Thankfully, we have ended up with a cohort of smart investors who care about our mission and have been incredibly helpful in assisting the team and I.
Why did you choose to use Angel Investment Network?
Whilst we had a great pool of industry experts from over the years, we knew that reaching out to external investors would help validate our business ambition and the capability of the team without the personal validation.
We'd looked at a number of different options and thought that AIN was a platform that would help us clearly demonstrate our ambitious, unlock conversations to new, smart investors and would also provide a good central location for investors to point to when sharing our details.
We decided to launch with the homepage feature on Tuesday, by Sunday had issued docs to the interested investors and closed the round the following Friday on target.