We've been helping startups raise money around the world since 2004. Over 900,000 entrepreneurs have used our site. And the question we get asked most is 'How can I get my idea to investment?'.
After all this time in the industry, you'd think we'd be well-placed to answer it. And we are. But it's still not an easy question and the answer depends on the business in question.
We've been holding events and workshops to help entrepreneurs navigate this difficult first hurdle. Back in March we did a big one with global digital skills educator, General Assembly. And we filmed the whole event so we could share the wisdom with as many people as possible…
The film is quite long and you may want to watch specific sections at a time, so here's a breakdown:
0:00–17:06 Entrepreneur & Investor Olivia Sibony describes her experiences from the Grub Club idea to finding investors
17:07–35:25 Ed Stephens, Head of Investor Relations at AIN & Host of The Startup Microdose Podcast, gives practical advice on optimising your processes for finding investment
35:26-END Ed Stephens interviews an expert panel of entrepreneurs on their experiences: Anthony Rose (Seedlegals, BBC iPlayer), Elizabeth Swanton (Feedr) and Wil Harris (Entale, Condé Nast)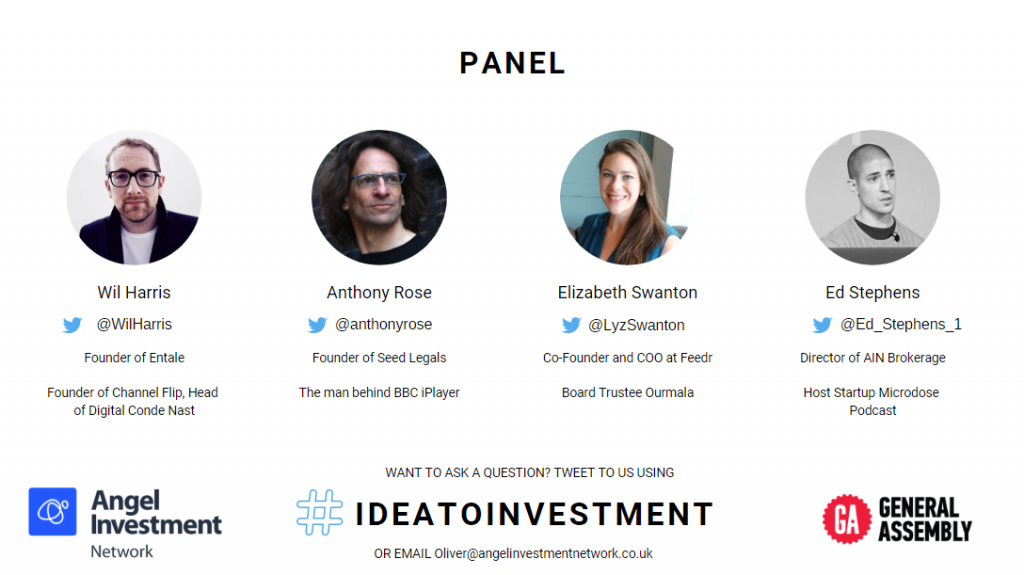 Enjoy!
If you have any questions, please reach out to hello@angelinvestmentnetwork.co.uk