Liamhl Asmall shares the story of IBS Coach, a digital dietary treatment for the 800 million people affected by IBS.
What does your company do?
We help the 1 in 7 people who suffer from Irritable Bowel Syndrome to get instant and effective digital treatment from the phone in their pocket. It may come as a surprise, but IBS is one of the most common digestive conditions on the planet. It's not life threatening and is still taboo (which is most likely why it's been so overlooked for so many years), but it severely impacts relationships, work, travel, and ultimately, quality of life.

In one study patients with IBS were willing to give up 15.1 years of their remaining lives to achieve perfect health. People are desperately seeking a cure.
Why did you set up this company?
Healthcare for IBS is inefficient and unaffordable. It is incredible that patients have to wait a reported 1 year to see a specialist on the NHS, or pay up to £320 for private treatment. We set out to solve this problem that our friends and family had faced. Our mission is simple: to make effective digital treatment accessible, affordable, and scalable for this 800 million person IBS healthcare market.

How did you get your first customer?
When developing a medical product you've got a long road to walk before you can sell to customers. Our journey went from achieving medical compliance to setting up a closed beta testing group for people with IBS, to launching in the app stores. The overwhelming positive feedback gave us confidence that patients would buy our product. We launched commercially in October this year and had our first sale almost immediately. It's a good feeling to know we're helping people manage their IBS.
We knew we were onto something when?
We interviewed 30 people with IBS at the start of our journey and just listening to their stories and frustrations showed us there was a clear need for an affordable, simplified treatment for IBS. Very early on we shared a post on Facebook and had almost 200 sign ups in the first 24 hours. These were early points of validation and were supported by lots of desk research.
Our business model:
IBS is a lifelong condition that needs ongoing symptom management. Because of the ongoing nature of IBS, we aim to support patients throughout their life. The business model is a recurring revenue subscription and we are currently testing our acquisition channels and pricing. One of our goals is to establish a marketing flywheel with our next SEIS fundraise.
Our most effective marketing channel has been:
Organic sales in the iOS app store. We're now putting marketing spend behind Apple Search Ads and Google Ads which are 'high intent' channels. We've run multiple Facebook campaigns to test landing pages and messaging, and we'll be exploring ways we can partner with brands.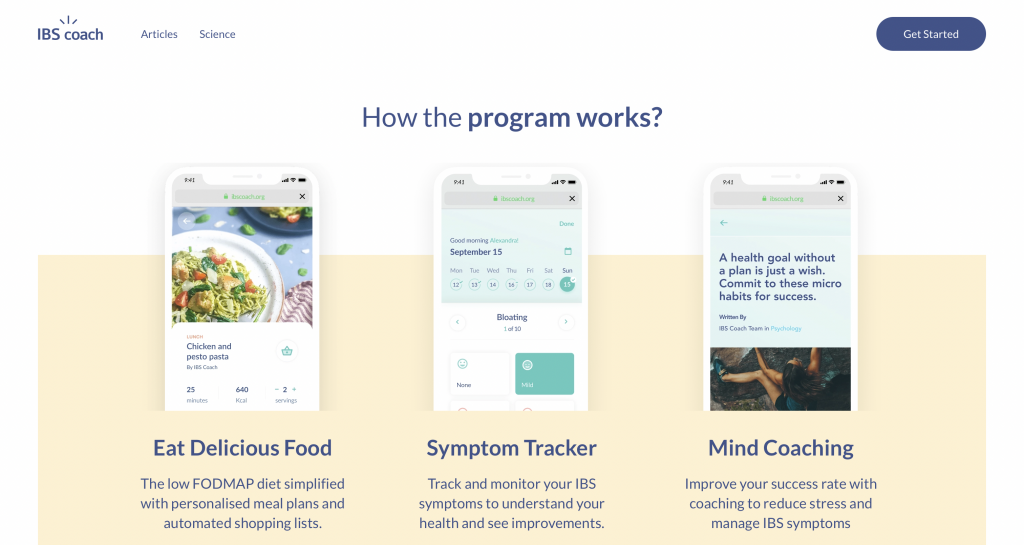 The biggest mistake that I've made is:
One of the early mistakes was focusing too heavily on the product (we have a great product, and as a medical product we perhaps needed to spend a lot of time here!). However, if I were to start over I'd spend slightly less time on product and more time testing sales channels. It's a fine balance as founders have to wear many hats. The risk is that founders focus on the jobs they like, or feel most 'comfortable doing'. It's good to be aware of our bias towards tasks.
We think that there's growth in this sector because:
IBS is a lifelong condition and the latest reports suggest the rates of IBS have actually increased during Covid. Couple the above with the mass adoption of digital healthcare, the large unserved market, and the scalability of our effective digital program and we have the right trends for our company to grow.
We worked with AIN because:
AIN has a reputation as one of the best platforms to share our ambitious plans with engaged angel investors; We hope to make many new connections and raise our current SEIS round.
If you are interested in learning more about IBS Coach, please get in touch via the Angel Investment Network platform.
Keen to hear more?
If you would like to see what other companies are up to on Angel Investment Network, or are interested in raising funding yourself, you can find your local network here.