Up next for #SixtySecondStartUp we have Matthew Billington, Co-founder of Society. Matthew noticed that student usage of Facebook was falling off a cliff and set up a startup to help student societies manage their members with their own branded apps.
What does Society do?
Society is your own branded community app in an instant. With over 1,700 clubs with group chats in over 217 Universities in the UK and worldwide, Society is now the fastest growing app at University for clubs and societies.
App features include push notifications direct to all your members for instant alerts and updates for events and announcements. It has your club's calendar of events, an instant searchable network, personal profiles, direct messaging, group chats, free e-tickets and much, much more. And, it's completely free for students.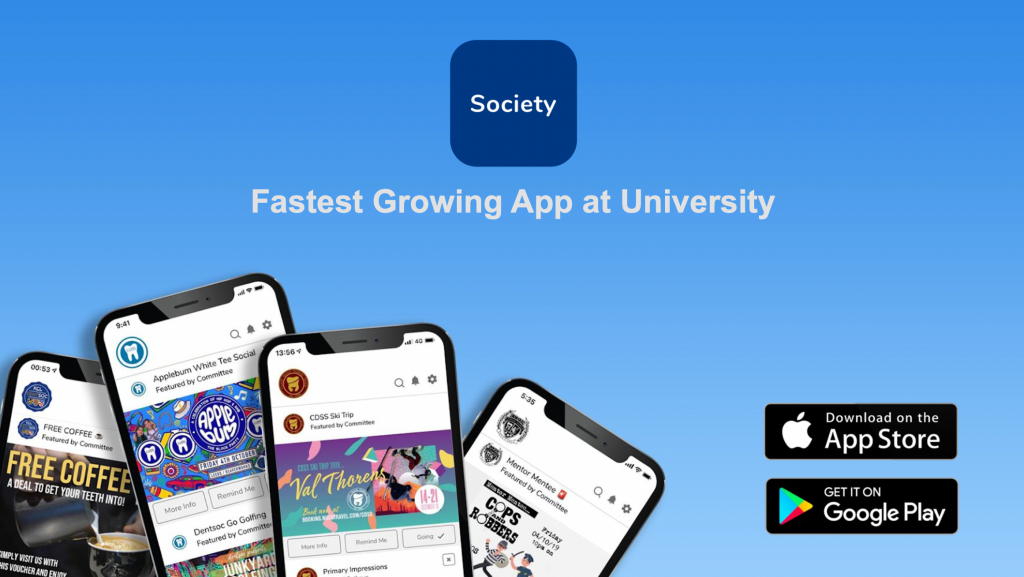 Why did you set up Society?
When I entered my 4th year as a dental student at King's College London, I soon discovered that being elected President of the KCL Dental Society of 800 members came with its fair share of problems. Engagement was falling and falling, Facebook was becoming increasingly outdated especially with freshers. Year on year, we were seeing a progressive decline in engagement with university students.
With popular event booking platforms such as Eventbrite and Fatsoma, having high transaction fees, I wanted to create a platform with the lowest possible ticket transaction fees for students, whilst remaining free for free events. WhatsApp groups were also a terrible way to manage a society and events.
How did you get your first customer?
After engaging with Presidents from other dental schools I soon discovered that nearly every new President of a university society is in the same boat, re-creating the wheel, each and every year.
I originally came up with the idea of the Dental Society app to have a profound and positive impact on committees and society members at all 16 dental schools. Helping committees to save time through automating event management, certificates, ticketing/e-tickets for events, whilst having the committee displayed and available for all members to directly contact through the chat.
We knew we were onto something when?
Suddenly, the Presidents of King's College London Medical Student Association wanted to use the Dental Society app. Then 18 months ago when the app was re-engineered and relaunched as "Society" for all student clubs, Aston's African Caribbean Society wanted to use the app. That's when we experienced exceptional growth from 12 clubs to 800 clubs to now over 1700 clubs in the last 18 months.
Our business model:
Society co-founders chose pre-monetisation to maximise and prioritise viral growth without friction. Over the next 12 months, we are proving multiple revenue streams to find optimal ways of aligning monetisation with viral growth.
Our most effective marketing channel has been:
Word-of-mouth with students. The new academic year saw more than two hundred Society Ambassadors attend Freshers Fairs at Universities across the UK to promote the Society app to clubs, societies and students. All ambassadors wore the Society hoodie while spreading the word about the features and benefits of the app. The awareness campaign was a huge success.

What we look for when recruiting:
Insanely great people with ideas and raw talent, passion and energy that don't need to be managed. They have to believe in the Society app, our vision and be fun.
The biggest mistake that I've made is:
Not immediately realising the full potential of the Society app as an instant community app for absolutely everyone in the world. ESN UK is set to digitise the student exchange experience with their new Society App partnership. Formally the Erasmus Student Network, ESN is the largest student-led organisation in the world in over 1,000 Higher Education Institutions in 42 countries.

Together with Society App, ESN UK are launching a new app specifically for their members to help them to develop skills to a higher proficiency. As seen in The Daily Telegraph, the ESN partnership presents a global opportunity for the Society app and is one of the pathways to having a world-wide presence in 2022 with student brand ambassadors in every country.
We think that there's growth in this sector because:
Significant traction has been made in the new academic year post covid lock downs. In the last 90 days, clubs have doubled and grown by 100% across 1,700+ Clubs, now also with 1,700+ Group Chats. Memberships have grown by 130% and engagement has grown by 700%. Over £50,000 has been collected via Society Pay, the in-app payment gateway. This exceptional growth since launch only 18 months ago, means the Society app has already cornered 13% UK market share and is expected to double in 2022.

The app's success reflects UK University only, excluding parallel, international and enterprise markets. There's still time to invest in the Society app (EIS approved) this year to support the team growth of student brand ambassadors and react native developers, which will allow greater scale and global ambitions to be achieved.
We worked with AIN because:
AIN was highly recommended and we found AIN to be one of the best ways to reach and communicate with potential investors.
Keen to hear more?

If you would like to see what other companies are up to on Angel Investment Network, or are interested in raising funding yourself, you can find your local network here.